About the Chamomile Tea Party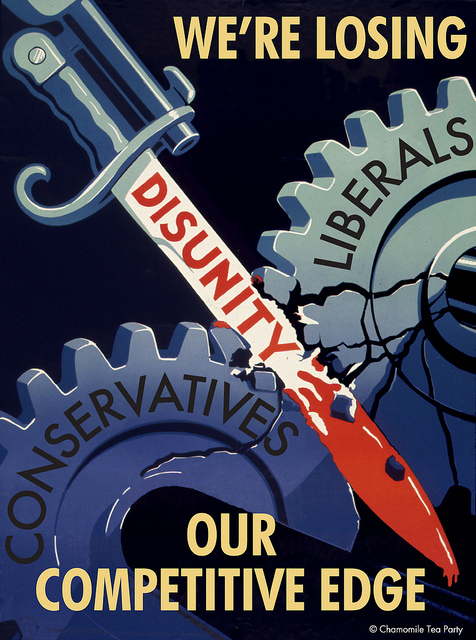 The Chamomile Tea Party was formed in 2010 to work towards a more effective dialogue about the future of America. Congress has become paralyzed by partisan politics. There has been so much rhetoric it has become almost impossible to get any important legislation passed. And Americans are suffering. We are no longer interested, nor can we support "politics as usual."
To this end, graphic designer Jeff Gates has been remixing World War II propaganda posters with new text about the rancor so prevalent in American political and cultural discourse. The posters send a message to the "powers that be" that we are hurting ourselves as a country and as a people. In addition, the posters are meant to be used by the electorate to aid in voicing their concerns. High resolution posters can be downloaded for free. In addition, by popular request, prints are available for sale.
Over 80 posters have been produced so far. They appear in Jonathan Haidt's book on the American political process: The Righteous Mind: Why Good People are Divided by Politics and Religion. Articles about these images have appeared in The Washington Post, The Economist, AdWeek, The Atlantic,  The Huffington Post and BoingBoing and have promoted interesting dialogue and spirited debate. The Urban Times wrote a piece on the genesis of this work.
Tax Deductible Donations
Many have asked if they can donate to the Chamomile Tea Party for our continued work. The answer is yes. When you donate via PayPal you will be donating to the Chamomile Tea Party's umbrella organization, Artists for a Better Image, Inc. Artists for a Better Image is a 501(c)(3) non-profit art organization. And, donations are tax deductible to the extent of the law. For more information, contact us: info[at]chamomileteaparty.com.